Officially Spring in Nozawa
More blue sky today as the temperatures drop ahead of the closing of the Hikage Bowl in a few days. We're in for some more glorious weather ahead. There might even be a fair bit of snow on the horizon.
Friday 30th of March
Temp at Top: -3℃
Weather: Sunny
Base at top: 240cm
Base at Uenotaira station: 145cm
New snow since close: 0 cm
The Hikage Bowl is only open for a few more days. After 1st of April the resort will close the bottom lifts and the road will cut through past the main gondolas. There's still plenty of great skiing to be had. There could also be a considerable amount more if forecasts are accurate. Check out the 6th!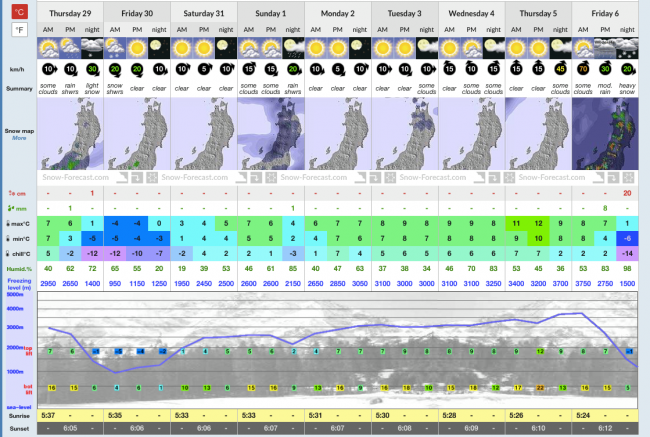 Whether a belated April Fool's joke or legit, the forecast will surely change a few times before that date rolls around. However, the resort is probably due for a freak late season dump, so we'll have to just wait and see.
For now, the weather we've been enjoying lately looks set to continue but just a little cooler today. At the top of the mountain, the gauge isn't supposed to rise above zero today, with a coolish day also predicted for the village. Tomorrow should be a little warmer. It's then business as usual from Monday onward….until the 6th, of course!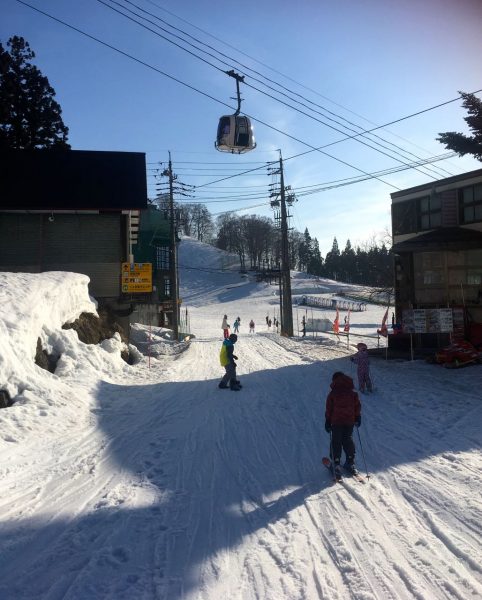 When Spring Has Sprung
There's still enough snow up top for a few more weeks of fun, particularly for families. The weather is a little kinder on the kids and there's discounts of lift tickets and accommodation. So it's still worth coming for a visit if you're thinking about it.
Beyond the ski season Nozawa Onsen retains it's beauty and bursts in to the Green Season. There's unique festivals, outdoor pursuits of all kinds and even some summer skiing to go with the onsen and traditional beauty of the town. There's still plenty of reasons to fall in love with Nozawa Onsen during the warmer months.