Backpacker-Style Nozawa Onsen
Winter v Summer
Winter in Nozawa Onsen is a different beast to the Green Season. During winter, Nozawa hosts skiers and boarders in search of some of the world's finest powder snow. The kicker is what makes the village unique. Unlike many ski resort towns which pretty much only exist for winter sports, Nozawa has long been a destination worth visiting across all seasons.
The Onsen in "Nozawa Onsen"
Japanese people have been visiting for literally centuries. The healing and relaxing hot spring waters of the onsens is what they've come in search of. Today, the village's 13 public onsens remain free to use to visitors and locals alike. This is quite unique among other onsen towns you'll find in Japan. Most require the payment of some sort of fee. Of course, you can make a donation when you visit an onsen in Nozawa but it is not mandatory.
Many visitors to Nozawa Onsen choose to do a bit of an "onsen crawl", some visiting all 13 for a truly relaxing and cultural experience. There's also a few foot onsens scattered around town. These make for great places to kick back with a beer and soak in the atmosphere.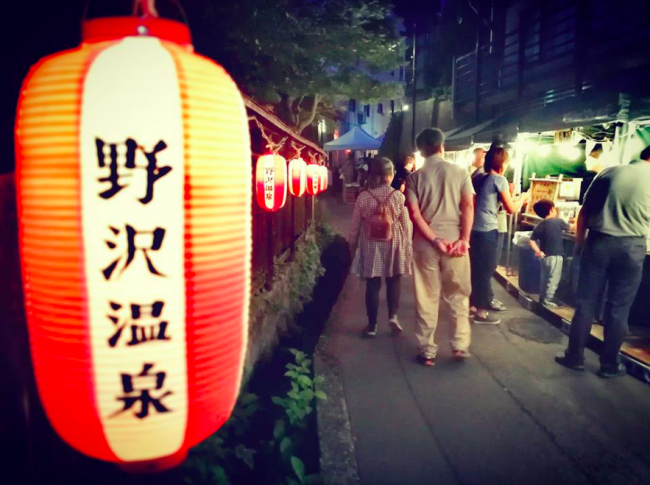 Traditional Festivals
Speaking of atmosphere, Nozawa Onsen hosts a handful of festivals across the calendar year. Perhaps the most famous is January's Fire Festival, however, both the Baby Bamboo and Autumn Lantern Festivals are no less spectacular. In fact, there are fewer visitors around so, if anything, there is perhaps a bit more of an authentic feel about things.
Hiking & Biking
Of course, when the snow melts, the hiking trails open up. There are some amazing hikes through beautiful green forests and by gorgeous lakes, shrines, temples …and very few other people! For a period of about 6 weeks over summer, you can also find mountain bikes on the trails, serviced by the main gondola.
Music Festivals
Nozawa Onsen is not what you would call a party town during the warmer months. Many who visit during the Green Season do so in order to escape the madness of Tokyo or the tourist-drenched sights of Kyoto. However, that doesn't mean there isn't any fun to be had. This summer just gone, we took a bunch of our guests over the river to the Iiyama Sawagosa Outdoor Music Festival in neighbouring Togari Onsen. It wouldn't be fair to tell too many tales but suffice to say, everyone had a good time! We also had a few guests use the relative peace and quiet of Nozawa as a base to visit the Fuji Rock Festival. When the time rolls around again next year, we'll probably look at running a bus to and from the venue from Nozawa.
Cheap Accommodation
Of course, none of the above would be relevant if it weren't for the heavily discounted accommodation we're able to offer during the Green Season. Very reasonable rates will be up for grabs at Villa Nozawa, right in the heart of the village within walking distance to onsens, the main street, the mountain, and let's be honest, pretty much the whole area!
Hit us up with an email if you have any queries or comments. Or check out our Instagram and Facebook pages.
See you soon in Nozawa Onsen!